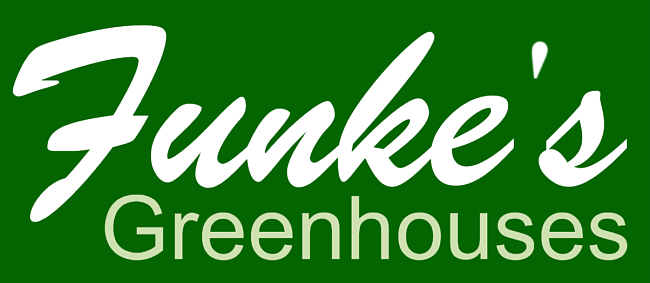 4798 Gray Rd Cincinnati OH 45232 Phone 513-541-8170
The Gardener's Garden Store!
Come see why people who love gardening shop Funke's
Great plants, great service, great prices, Real Value
Open Mid march to Mid November
Currently closed for winter.
Sales of Mulch, Soil, Fertilizer etc. by appointement call 513-541-8175.
The Spring 2015 selection of Vegetable and Herb plants will be our largest ever. There's a reason we call it "insane" :)
We've added even more heirloom tomato varieties, more peppers, heirloom Squash, Okra, and Eggplants, among others, and a whole bunch more herbs, including culinary, medicinal, and spiritual use varieties. We believe in staying close to nature and grow our plants here focusing on non GMO varieties. Our catch phase is "Just say no, to GMO."
Come see why vegetable and herb gardeners are driving as many as 3 hours one way to shop our incredible selection!
Our service, selection, and prices will delight both the beginner and expert gardener alike.
If you are a truck farm or a community garden or other commercial or non profit organization we offer exceptional quality and commercially competetive pricing. We also have decades of experience meeting the needs of the commercial market. We do request large volume commercial orders be placed to allow enough time for procurement and sowing of seed or propagation of cutting to meet your requested ship date.
In most cases this lead time can be several months. If interested drop an email to lepere@fuse.net for details.
Have a favorite variety that you'd like us to carry? Just drop an email to the address in the previous sentence. We like requests and feed back from our customers. :)
It is often a challenge to post complete variety lists here on the site, but to give you an idea of what we grow here are tomato and pepper lists from our 2013 selection.
Spring 2013 tomato plant list!
Our largest selection ever!
Spring 2013 pepper plant list!
From dangerously hot to sweet as candy it's pure pepper pleasure
Here's a bunch of other fun garden stuff to poke through on our site. :)
Home
About us
Products
Services
Video
Easy gardening
Fun Stuff
Sign up for Funke's email
Liberty for dummies
The Liberty for dummies page is a simple refresher for all of us Americans that have forgotten what "liberty" is really all about.
It's cute, has great music, and even a kid can understand it. Some adults may be another story. :) It's well worth the watch. I hope you find it as refreshing/entertaining/enlightening as I. My highest compliments to the artist that constructed it. Webmaster
The site is evolving. Rather than take it down for "maintainance" the way many do I decided to leave the old links below in place while I get them placed in the new sections of the newly added site links above. Al
Stop supporting greedy billionaire bankers! use cash!
Want to do something about greedy bankers robbing the public treasury blind through massive corruption at the federal level? STOP USING THE PLASTIC & START USING CASH. Credit cards do nothing but suck BILLIONS of $ away from the working class & small businesses every year. Who pays for the skymiles and rewards? Your merchant, that's who. Those rewards are taken electronically out of the merchant's portion of the sale when the card is scanned.
God grant us the sereneity to accept the things we cannot change, the COURAGE to change the things we can, and the WISDOM to know the difference.
Serving the greater Cincinnati Garden Market for four generations since 1896
We were at one time, perhaps the single most comprehensive selection of perennials, annuals, trees, shrubs and garden accessories in the region including tuned windchimes, garden furniture, tools, fertilzers and water gardening supplies. The unwillingness of garden consumers to buy plants in any significant numbers in anything less than perfect weather, and then only willing to pay what they did ten years ago while costs of operation skyrockted forced us to shift focus towards the self sufficient organic method food production of our past.
Our primary mission is now to provide the plants, materials, and knowledge necessary for our customers to take control of their own food supply.
"Teach a person to fish and they're fed for life, teach them to garden and they can feed the whole neighborhood!" Al Funke 2009
We look forward to a sustainable future of healthy and bountiful harvests.
Located at 4798 Gray Rd. Cincinnati Ohio 45232
Phone 513-541-8170
Browse through our extensive site through any of the above areas. We hope you have as much fun here as we have putting it here for you!
We pride ourselves on customer service and do our level best to be as "user friendly" as possible!
Feel free to send us any comments or suggestions via the email link below.
Gardening questions are welcome :)
If you are a local shopper sign up for our email specials!
You'll get gardening tips 'n tricks and weekly clearance updates going on at the store.
Just send us your email address and we'll add you to the growing list of VERY satisfied local customers :)
(we do NOT share any information with other companies)

<font face="arial"><A HREF="http://www.seekon.com/L/US/OH/Cincinnati/"><i>SeekOn/Cincinnati</i></a></font>
.